Top 5 Mobility Scooters To Travel With
When it comes time to travel, there is enough stress and planning already, don't let your mobility scooter get in the way. Mobility scooters are designed to increase mobility and adventure, not limit it.
We have compiled a list of 5 of the best and most portable mobility scooters to help make your next vacation the best one yet!
1. Merits S542 Yoga Mobility Scooter
The Yoga is a super compact folding mobility scooter featuring a 24V/ 11.5 AH Li-Ion battery capable of traveling up to 11.25 miles on a single charge. Its max speed of 4 mph and tight turning radius of 37.8" provides excellent maneuverability anywhere from grocery stores to hotel hallways. Despite only weighing about 57 pounds including the batteries, the Merits Yoga scooter can support up to 250 pounds in weight.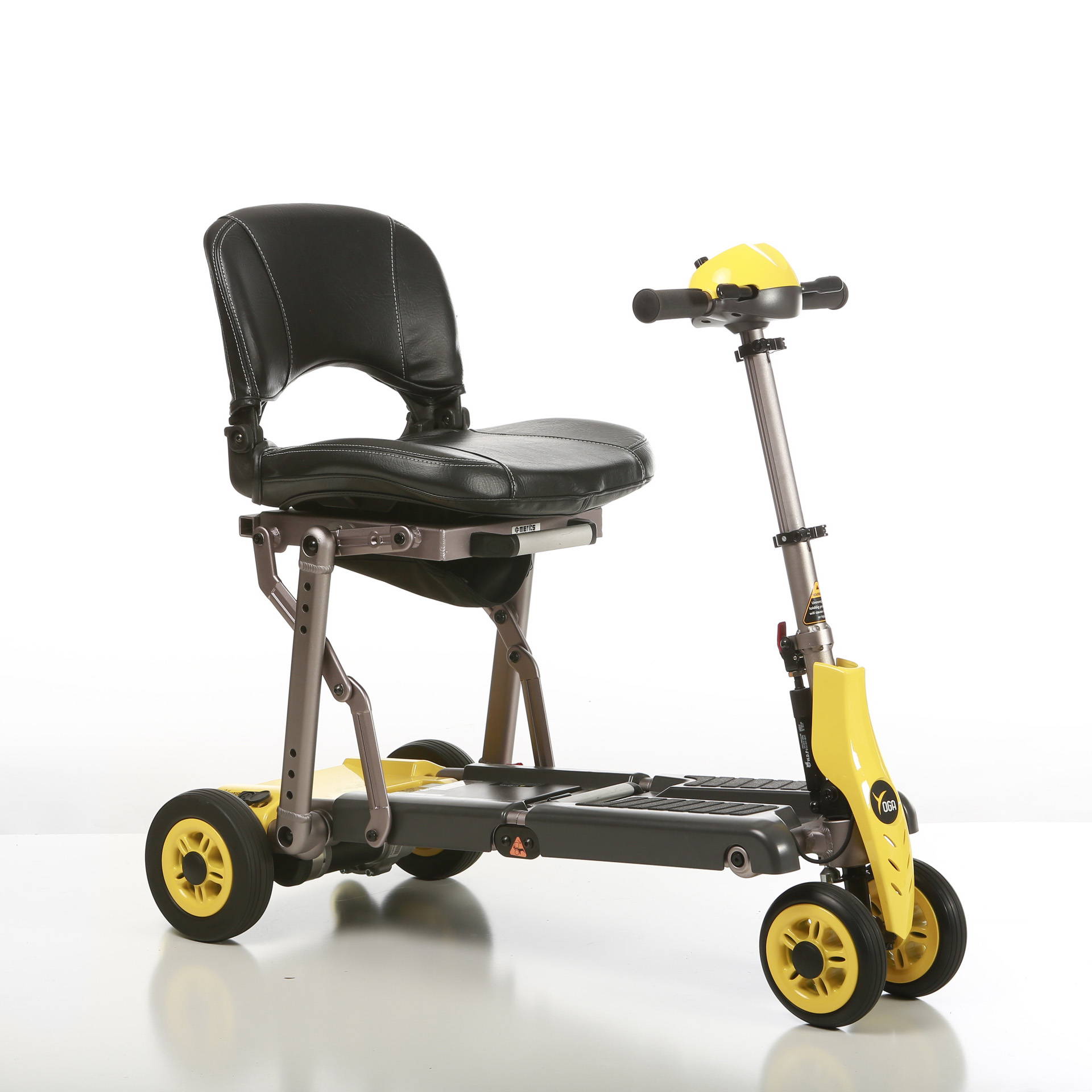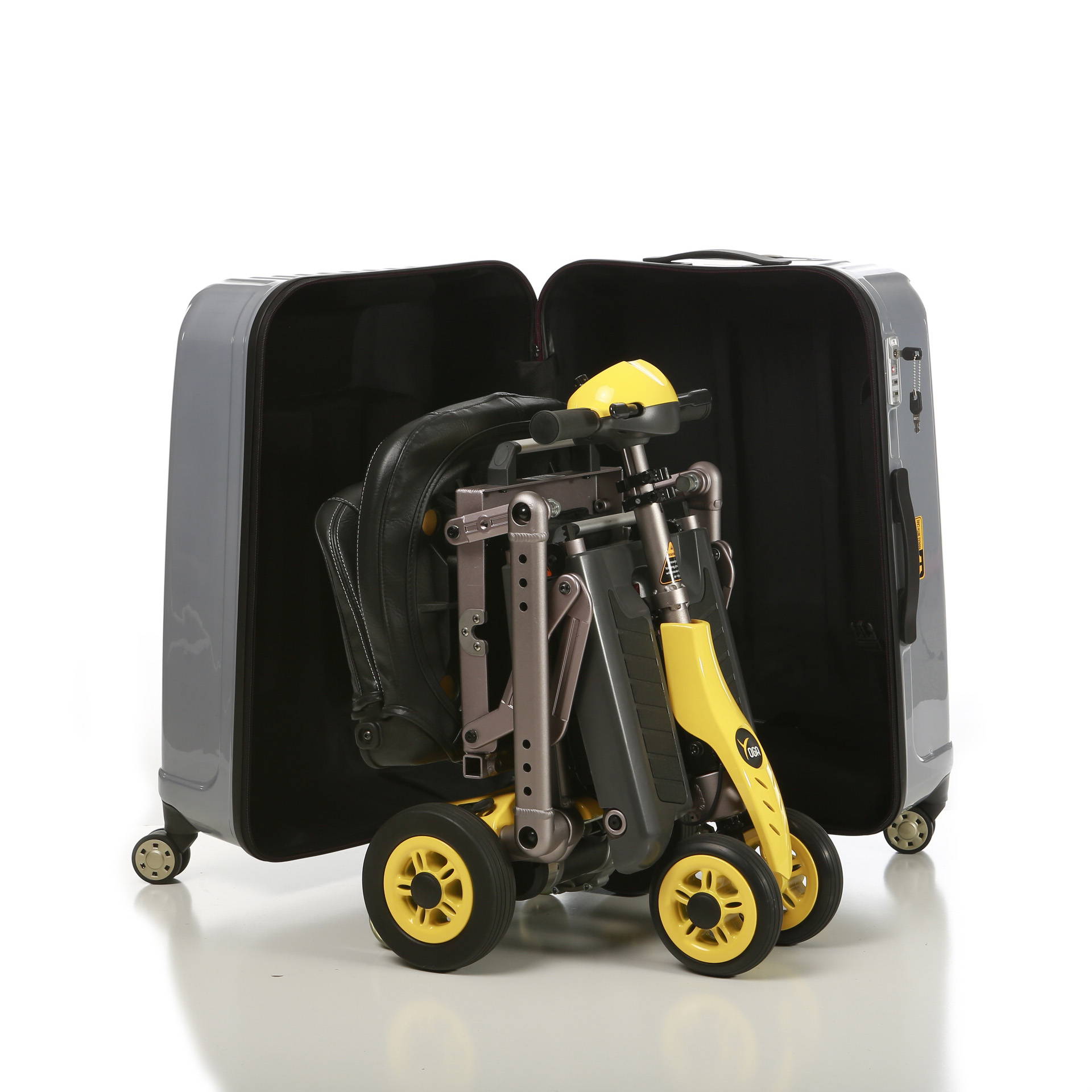 The Yoga Mobility Scooter comes with its own, custom designed, suitcase for easy storage and travel in planes or cars. You can easily tow it around while folded, then just pop the scooter open and its ready to ride anywhere you need it.
2. Drive Medical ZooMe Auto-Flex Folding Travel Scooter
The lightweight  Drive ZooMe Auto-Flex only weighs 55 pounds in total. It can fold up and extend electronically within 15 seconds with the included wireless FOB key, which is great for less mobile individuals who may struggle setting up a mobility scooter.
Powered by a 25.9V/ 10AH Federal Aviation Administration (FAA) approved Lithium Battery, the ZooMe will travel 13 miles on a single charge at a top speed of 4 mph. The ZooMe is equipped with a 16" (W) x 14" (D) seat and can support up to 300 lbs.
The ZooMe mobility scooter also has a manual folding model listed at a lower price, for those who wouldn't mind setting up/breaking down the scooter manually.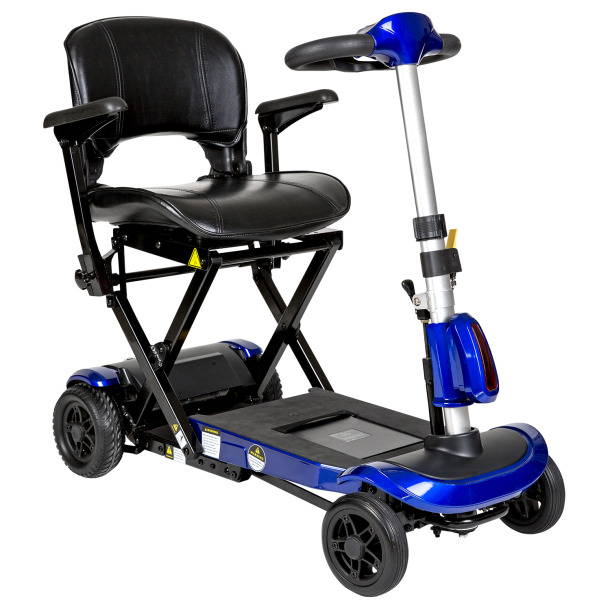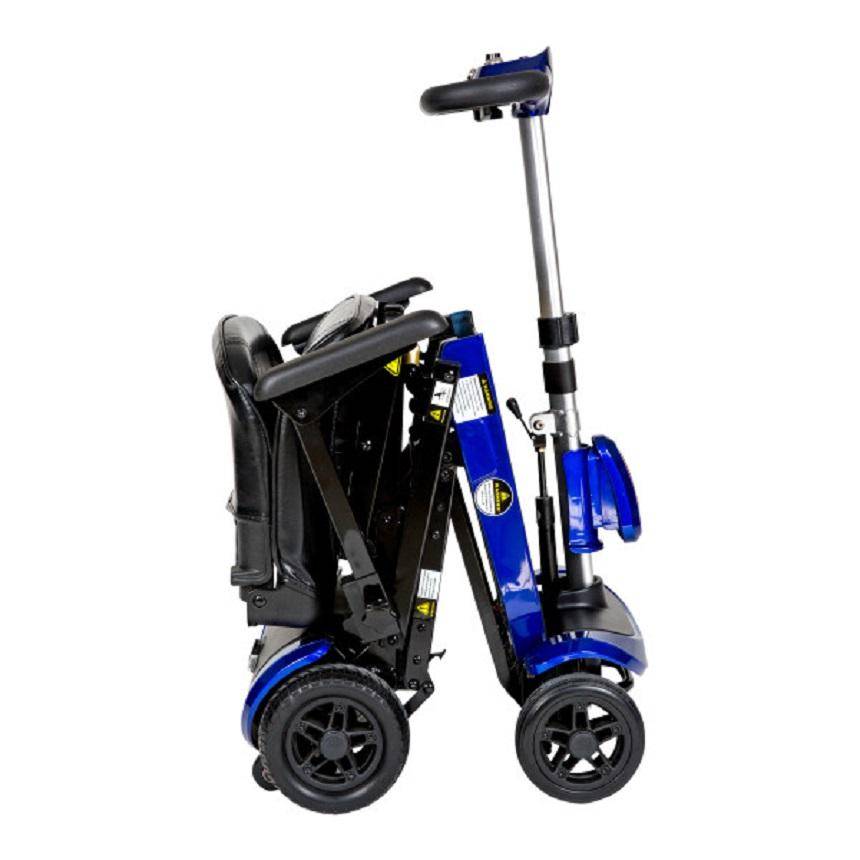 The ZooMe scooter comes with a manufacturer warranty on the Lithium battery.
The specially designed anti-tip wheels sure add safety, stability, and peace of mind. The delta tiller is easily adjustable in height and angle for users with restricted dexterity.
3. Pride Go-Go Folding Mobility Scooter
The included 12AH battery can power the scooter for up to 13 miles with a max speed of 4 mph and a 250 lb. weight capacity.
This scooter has an impressive 32" turning radius and a total weight of only 55 lbs. making the Go Go Folding Scooter a fantastic choice for crowded festivals or cruise ships.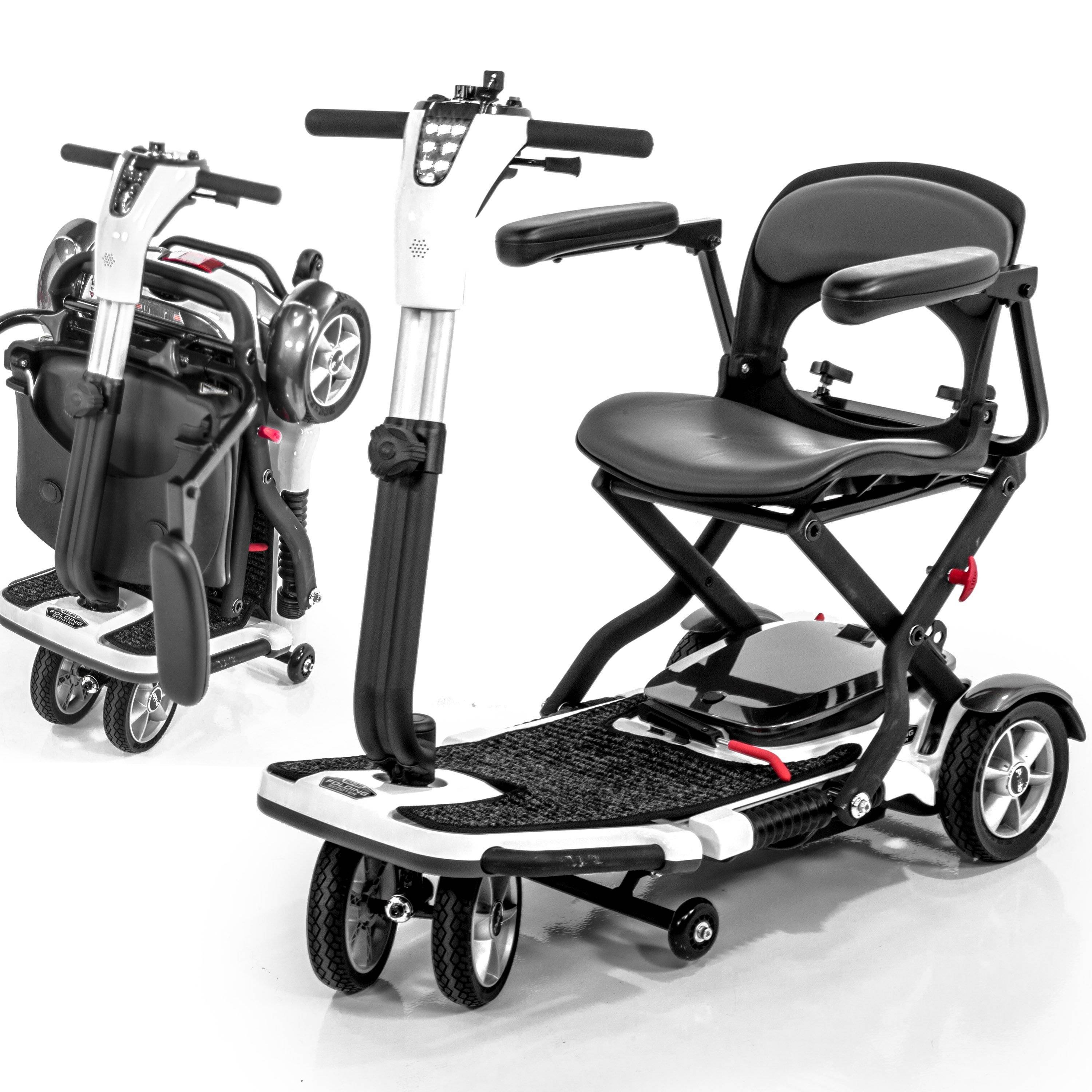 Front and rear lights are built in for driving safely in lower lit conditions. The smaller spacing between the 2 front wheels grants a tighter turning radius and the compact storage of a 3-wheel scooter but still provides the stability of a 4-wheel.
4. Ewheels Remo Auto-Fold Travel Scooter
The Ewheels Remo Auto-Fold scooter can turn on and off with the included wireless FOB key, in addition to automatically folding/unfolding in less than 10 seconds!
The 24V/ 11AH Lithium battery can power the scooter for 13 miles at speeds up to 5 mph, making this our fastest mobility device on the list. The 300 lb. weight capacity and adjustable arm rests makes this scooter very inviting to all body types and sizes.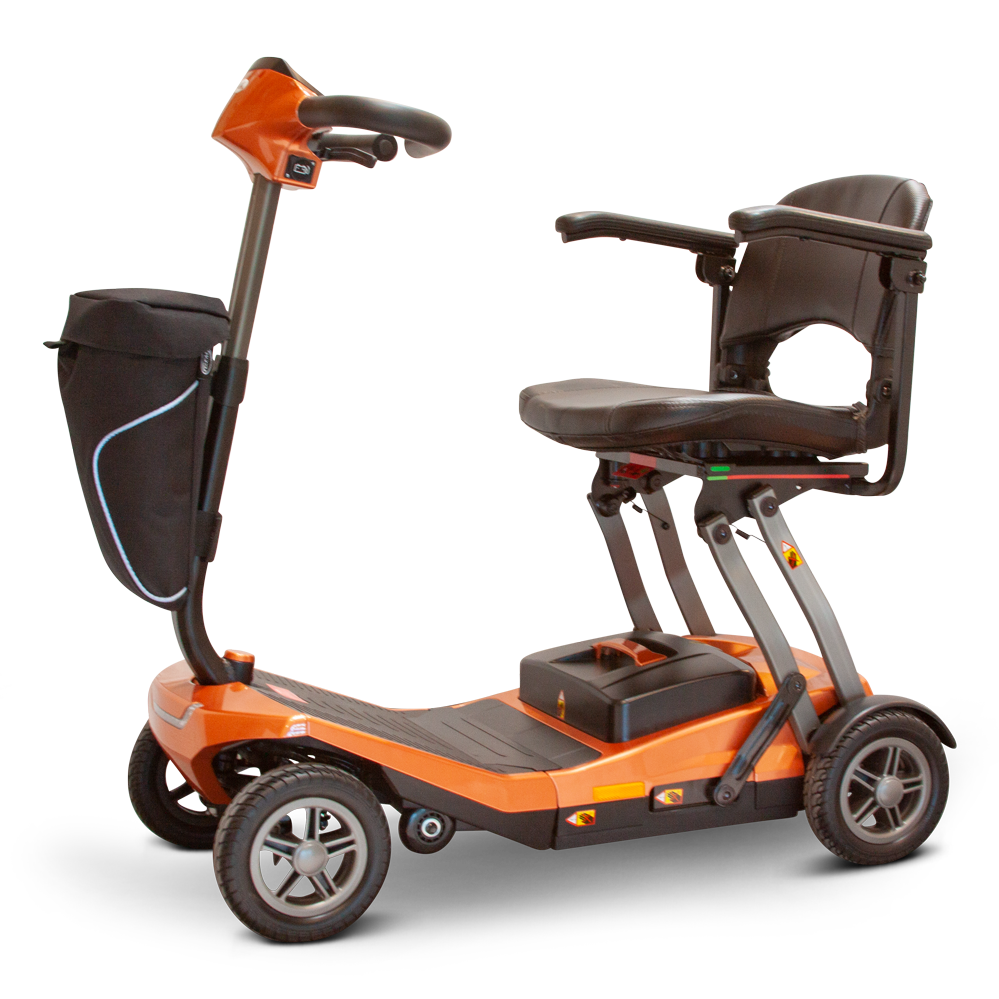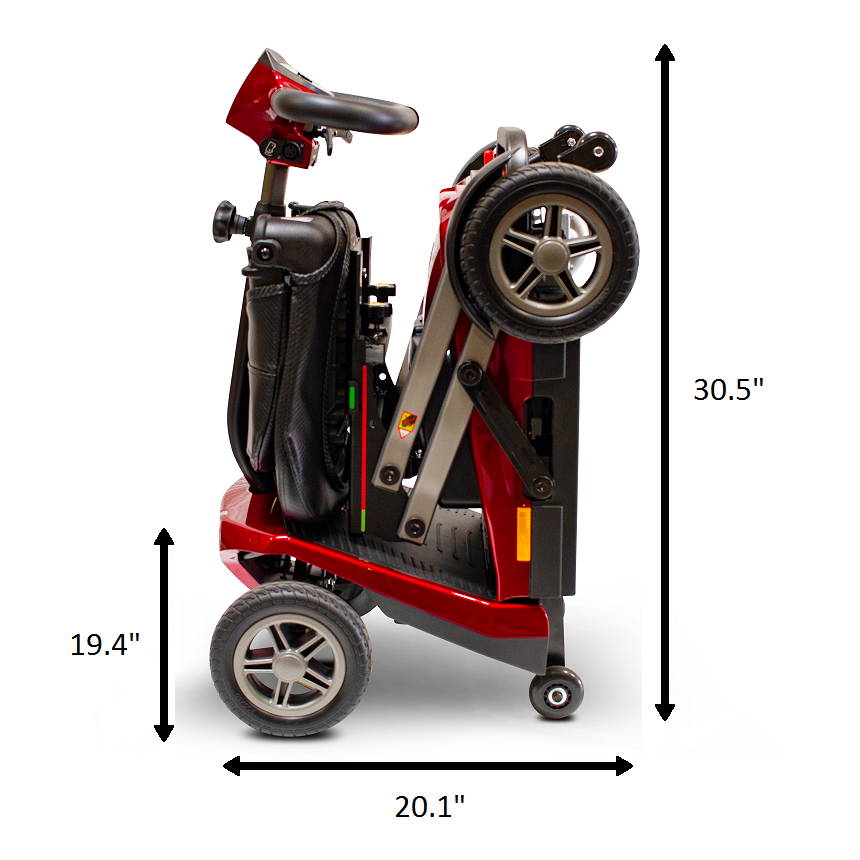 The hefty 8" wheels on the Remo provide more shock resistance allowing smoother rides over bumps and cracks as well as off road riding. The four oversize wheels also provide more stability to prevent the device from tipping.
A touch pad dashboard gives users access to speed settings, front/rear lights, a battery life indicator, and even a horn.
5. EV Rider Transport Plus Folding Mobility Scooter
EV Rider's Transport Plus scooter includes a powerful 270W 4-pole motor capable of maintaining speeds of 4 mph. The 2 standard 12V/ 12AH batteries provide about 10 miles of travel on a single charge. There is also an option to upgrade to a 24V/ 11.5AH Li-Ion battery pack to increase the range to 15 miles on a single charge.
The Transport Plus weighs 60 pounds (with the Li-Ion battery) and can support a max weight capacity of 250 lbs.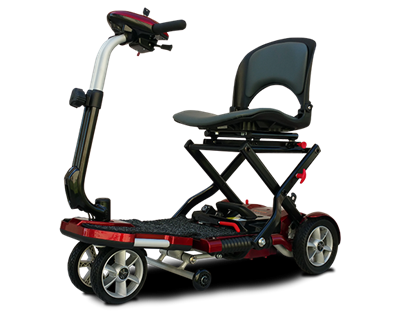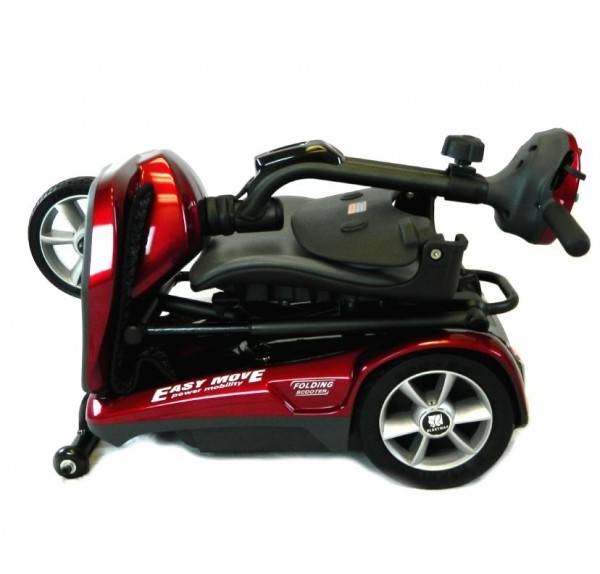 The notable turn radius of 32.3" ensures the Transport Plus can get in and out of most small areas with little difficulty. The high density foam seat and backrest should assure comfort even during extended use. This scooter is available in a 3-wheel as well as a 4-wheel option.
We hope you enjoyed our blog detailing 5 of the best and most portable mobility scooters on the market. We can assist you on your search to find the best travel scooter that fits all of your needs!
Shoot us an email or follow us on social media!