Mobility Equipment 20% Off And Free Delivery During COVID19
Here at Mobility Equipment Recyclers, we understand that these are unprecedented times and that there are a lot of people who are experiencing  serious financial burden right now. 
Which is why, we are extending a 20% off discount towards any online purchase until further notice. In order to redeem the discount, you can use promo code "TAKE20" on the checkout page and receive 20% Off of your entire online purchase!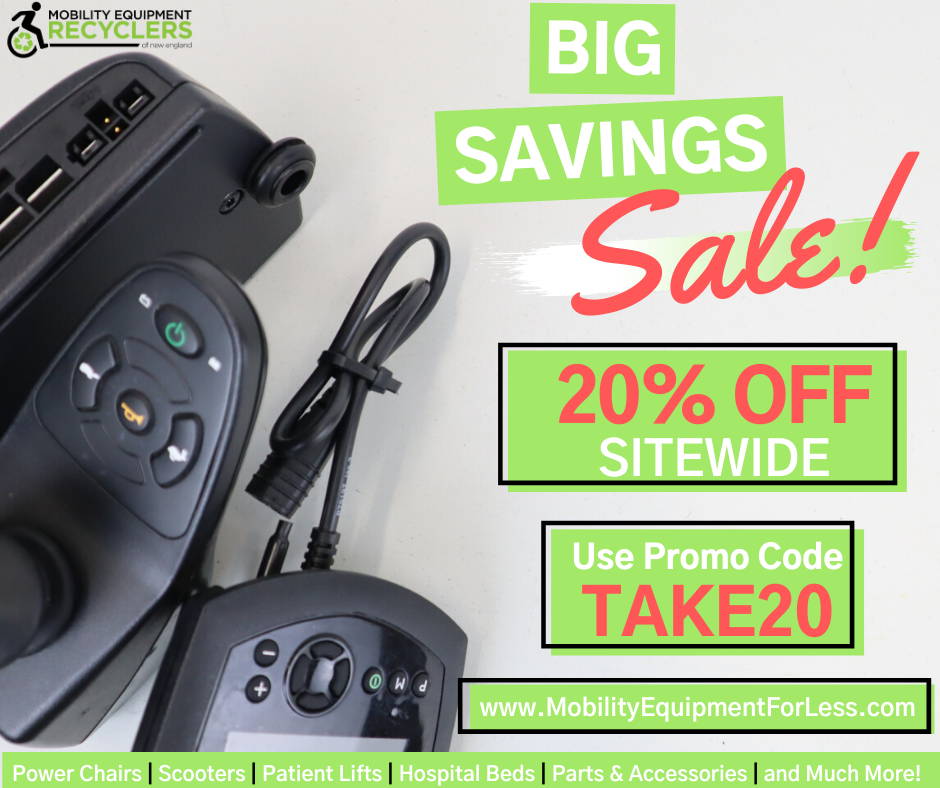 Check out some of our most popular products below. 

Find the highest quality replacement parts for power wheelchairs, mobility scooters, manual wheelchairs and more!
 We have a large selection of motors, control modules, joysticks, actuators, drive wheels, and more!
If you don't see the item you are looking for listed above and or on our site, please feel free to give us a call as not all of our products are listed on our website. 
We have one of the largest selections of certified pre-owned power wheelchairs for the lowest prices on the internet! 
Check out our power wheelchairs with seat elevate, tilt, recline, and power legs!
A wheelchair ramp is a great addition to any household with an individual who uses a wheelchair, power chair, or scooter. 
If you or a loved one is getting released from a nursing home, assisted living facility, hospital or other and need a way to get into a home, a ramp is the best option. Now more than ever with an increase of people being displaced by COVID19, we want to ensure that you and your loved ones can get in and out of your home safely. 
So please contact us today for a FREE estimate and quote!
Do you want to easily take your power wheelchair or mobility scooter on the road with you? A vehicle lift is the perfect option for you. 
You will no longer need to worry about lifting your heavy device in and out of your car!
As a result of the COVID19 pandemic, more and more people are being discharged from hospitals, nursing homes, assisted living facilities and other places of public residence. Family members must now figure out how to transport their loved ones and their mobility devices. Here at Mobility Equipment Recyclers, we are certified and professionally trained to install any type of vehicle lift for you or your loved ones mobility device. We have discounted prices and are just a phone call away.
Vertical platform lifts are great for indoor or outdoor use. 
Don't have a lot of room in your yard and or would prefer a smaller compact option for getting you or a loved one in and out of a home?
Well... Look no further. VPL's are an amazingly efficient and sleek option for getting a user and mobility device in and out of a home at heights of up to 14 feet.
Another great option if you or a loved one are being discharged from hospitals, nursing homes, assisted living facilities and other places of public residence during the COVID19 Pandemic.
A VPL serves as a personal elevator for any individual that uses a wheelchair, power wheelchair, or mobility scooter.
We understand the severity of COVID-19 and want all of our customers and community members to please abide by the stay-at-home order.
Which is why we are offering free delivery to Rhode Island, Southern Massachusetts, and Eastern Connecticut (on all online orders and when this offer is mentioned). If you would like to redeem this offer, please mention the offer at checkout and or to one of our customer service representatives. We are extending FREE delivery until further notice so that you don't have to leave your home to receive mobility and durable medical equipment that you purchase from us. 
We should all be taking extreme measures to prevent this disease from spreading. Please remain indoors, we hope alleviating some of the financial burden from online purchases and offering free delivery helps all of our loving and supportive customers.
In the meantime, we are doing everything we can to take the correct safety precautions to help combat the spreading of this disease. Learn more here.
Feel free to contact us via email at info@mobilityequipmentforless.com or call us at 401-294-4111